Mortgage Knowledge Process Outsourcing (KPO) and Business Process Outsourcing (BPO) offer a hybrid approach to efficiently using your workforce. They enable your high-value employees to perform high-value work, while outsourcing the checklist and SLA work through Automation.
Outsourcing has evolved beyond a nameless employee, insulated from your team, in a faraway land. Let us pull the curtain back and show you a new vision for mortgage KPO. Below, you will find our top tips to increase your profits through Labor Outsourcing and Automation. We cover:
| | |
| --- | --- |
| 1. | Labor Optimization – High Performance Activity (HPA) Calculation |
| 2. | Geographic Workforce Allocation |
| 3. | Thinking Outside the Box – lean on outsourcing for other areas |
| 4. | Automation |
| 5. | Workforce Optimization – Attrition, Hiring and Recruiting Expenses |
1. Labor Optimization – High Performance Activity Calculation
Turn Your Team into a 24-7 Workforce
With a labor and automation solution provider, you can perform all non-customer-facing functions, from origination through servicing and Encompass®. The key is to identify your High Performance Activity Calculation. If there are 100 pieces in a loan production process, each piece should be mapped to the right skill at the right price for cost-competitive loan production. Each member of the team should spend maximum hours in the day producing the highest value work that corresponds with their hourly rate. How do you determine this? Convert your team's fully loaded annual salaries to an hourly rate, then map that to the work they are doing during the course of the day. You will be able to determine whether the employee you are paying $50 an hour is doing $50 an hour work. If you look at the chart below, you will see a sample weekly work schedule, with hours in green and hours in orange. Green represents all the hours your workers spend doing the tasks that corresponds to their appropriate skills and costs. Orange represents the hours that should be outsourced or automated because they are valued below your employee's hourly rate. Your goal should be to look at the entire loan process and to produce each piece at the best price with the appropriate labor cost.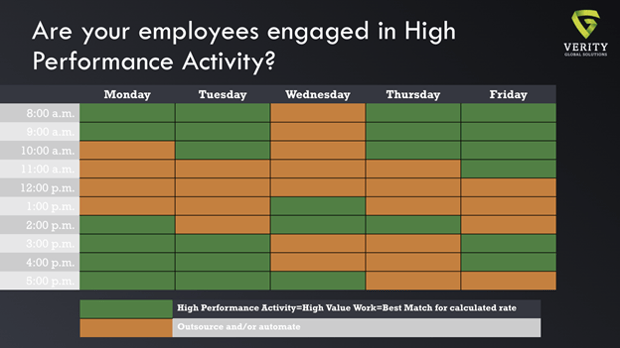 Increase Efficiency and Save 60% with Mortgage KPO and BPO

Underwriters typically underwrite 2-3 loans a day. What if you could double or triple productivity of existing underwriters at a fraction of the cost?
Underwriters are your most expensive resource. If an underwriter's loaded cost is $135,000, their hourly rate comes to approximately $65. When looking at the actual work, companies find their underwriters are spending a lot of time on tasks that don't correspond to $65/hr. That work is what KPO and BPO should be doing – using mortgage expertise and automation.
Using this model, you're able to produce every piece of the loan at the right price, giving you the lowest cost of production. With the right partner, Knowledge Process Outsourcing and Business Process Outsourcing can save you 60% for every hour of work they take over from your team.
Once you have determined every employee's HPA, you will be able to identify which hours of the day they spend doing work that corresponds with their hourly rate, and which hours they are performing lower value, checklist or SLA-based tasks. When you are looking at your margins, this is an example of an area where you can make a big difference over time. The lower-value work can often be automated or outsourced. Lenders can operate more profitably by using skilled resources that are available at a fraction of the cost they are currently paying. This approach allows lenders to focus their high-value employees on high-value tasks, ultimately relieving margin compression and increasing their existing employees' happiness and retention within the organization.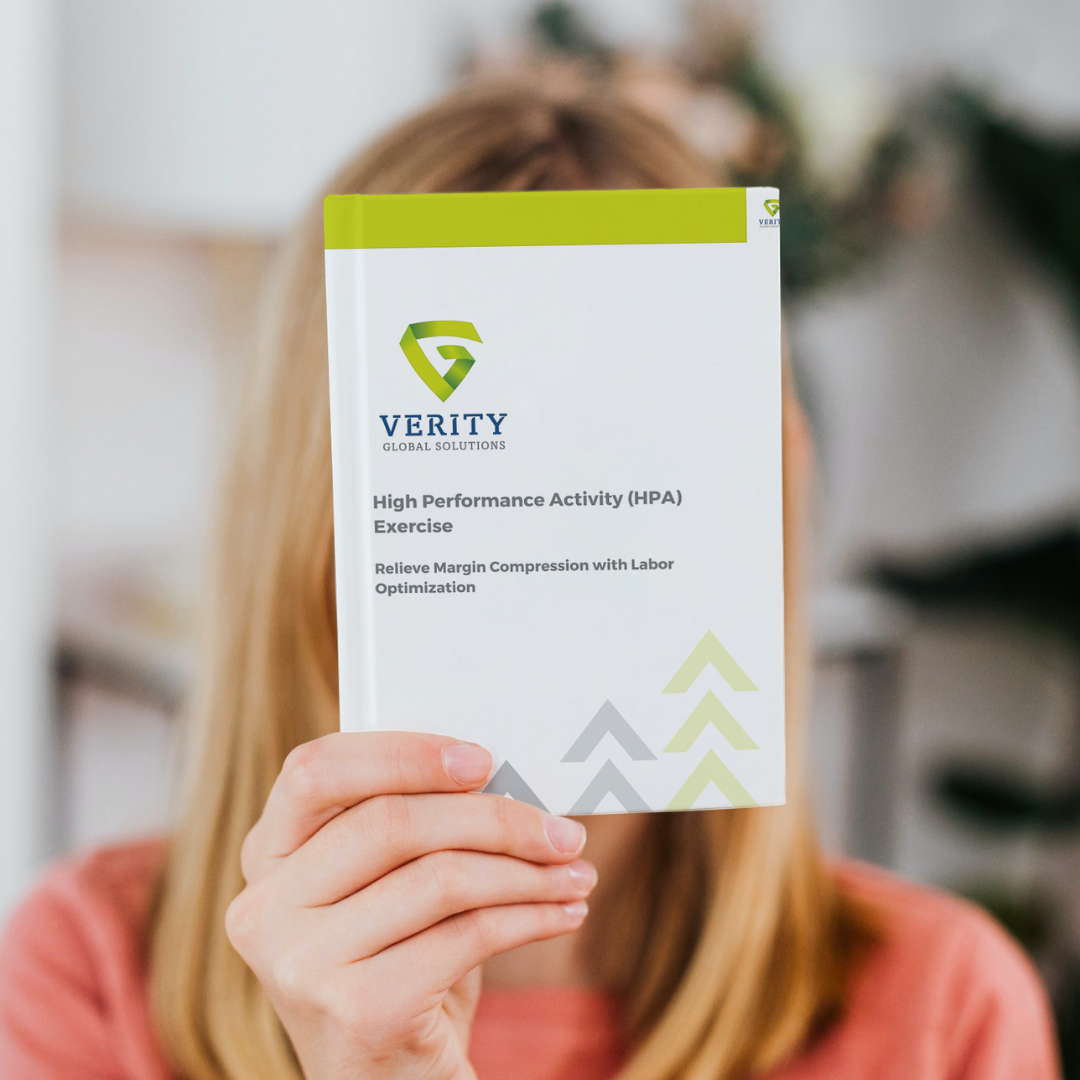 Access our High Performance Activity Exercise!
2. Geographic Workforce Allocation
C

rush Your Competition with 24/7 Global Operations

In today's global economy, don't limit your resources to your state, or even your country. Think globally. Technology today allows for this. Utilizing a global workforce, you can hire the right skill for the right price worldwide, turning your team into a 24/7 powerhouse, crushing competition.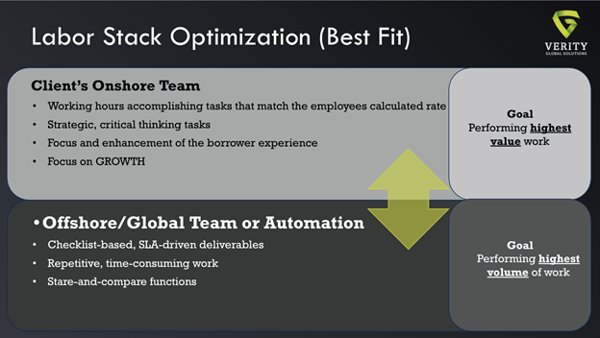 Analyzing your labor stack optimization helps you achieve this. Study your processes and identify which tasks make the most sense to either send offshore or automate like SLA and checklist-based tasks, repetitive and time-consuming work, or stare-and-compare functions, and which make the most sense for your onshore team to complete. That gets your team focused on critical-thinking tasks and focused on growth.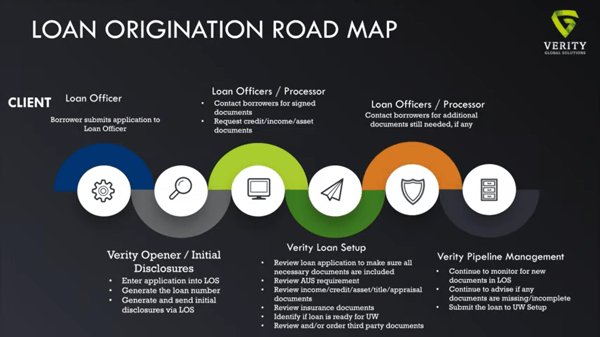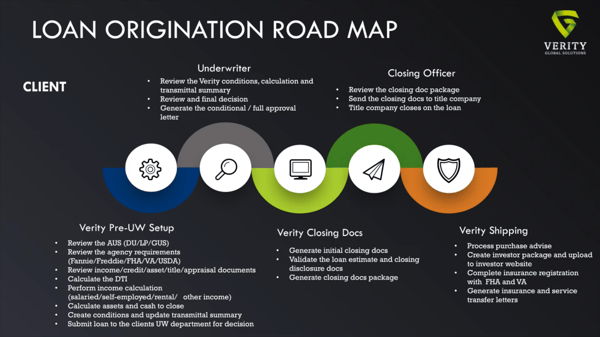 So how does it all work? Well, let's look at the loan origination roadmap. On the top here, you'll see all of the client functions. On the bottom are the functions KPO and BPOs like Verity can perform. We work in tandem with our client and pass the baton back and forth until we get to the finish line. We can take everything off your plate from opener initial disclosures, loan setup, pipeline management, pre-underwriting setup, closing docs and even shipping.
3. Thinking Outside the Box
Outsourcing Accounting and Encompass®️
Some of the most commonly outsourced functions are some that you may not have even thought of, like Accounting and Encompass®️ support. Now we know accounting is not the most exciting (don't tell our CFO we said that), but hang with us here for a minute. With a skilled team of mortgage accounting experts who are fully trained in AMB, Loan Vision, Quickbooks, as well as various mortgage LOS and servicing systems, your team can focus on strategic thinking and high-value tasks. Accounting is actually one of the most commonly outsourced functions that we offer at Verity. Most of our clients utilize us for tasks like commission calculations, MI payments, GL entries and transaction postings.
| | | |
| --- | --- | --- |
| | | |
| | Verity Robotic Process Automation (RPA) and Artificial Intelligence (AI) | |
| | Your employees performing investor reporting or bank reconciliation functions could cost you $120,000 a year or more, or approximately $60 an hour. With Verity, you can save up to 60% utilizing our skilled workforce | |
| | | |
Verity is a Premier Partner with ICE providing Encompass®️ Help Desk support. Outsourcing Encompass®️ can assist with programming functions, implementation and technical support at a fraction of your current cost. Most clients see cost savings of over 50%. Verity has standard or custom work shifts through our 24/7 operations centers.
4. Automation
Using a Hybrid Solution of Both Labor and Robotic Process Automation (RPA) is Important for Successful KPO and BPO
Our offices have rapidly transformed, and as more and more become accustomed to the work-from-anywhere style, you have the ability to go anywhere in the world and find the right skill at the right price. At the same time, it is important that businesses partner with a top KPO and BPO company that has not only critical automation resources, but also management and leadership that has a deep understanding of the mortgage workflow and will help you streamline processes. The Verity leadership team has a combined experience of over 200 years.
QCWorks is an automation tool that provides a pre- and post-close quality control tool in real-time. Verity is a third-party reviewer with QCWorks. We perform a number of functions including pre- and post-close QC, servicing QC, call monitoring QC, and servicing oversight. If you are like most lenders, you are 3-4 months behind. A KPO and BPO partner and solution like QCWorks can get you in compliance in under 60 days.
In addition to QCWorks, consider a custom modular bot. Sounds expensive right? It doesn't have to be. First, consider value and how you are spending your money. When you look at shifting some of your labor processes to automation, most lenders look at a CapEx model versus an OpEx model. When working with Verity, lenders have access to Verity's own automation platform and benefit from immediate CapEx savings utilizing transaction-based pricing. When you've decided to develop your own custom solution, it is important to select a partner that owns and controls their own bot platform. This allows them to develop, train and maintain the bot solution.
KPO and BPO Offer Robotic Process Automation (RPA) In A Range of Categories


Verity studied 200 companies' processes. We identified common tasks that can be linked together to complete processes and developed a library of bots. We study your process and then link together which modules fit your process.

CASE STUDY
Customer Web Scraping Bot
- Dev time: 6 weeks
- Reduced time from 15min/loan to 20sec/loan
- Savings $1mm a year and growing as company scales
5. Workforce Optimization – Attrition, Hiring and Recruiting Expenses
Increase Employee Morale through Mortgage KPO and BPO
When you focus your high-value employees on high-value tasks, you increase employee morale. Your KPO / BPO partner team can perform repetitive tasks and back office functions, virtually all non-customer facing work, leaving your high-value team to focus on strategy, decision making and the borrower experience.
Focusing on workforce optimization will help ease margin compression. The true impact that labor and automation solutions may have on your organization may not be apparent, but we've seen time and time again with our clients that the benefits are not only with margin compression and increasing profit. There's significant cost savings on SG&A. You see attrition, recruiting, training and hiring costs all go down. KPOs like Verity are designed to scale up and down so you don't have to worry about reputational risk if you have to downsize. Plus, if you see a big boom in business, a KPO is there for you to scale up right away. You'll see your employee morale increase because you'll have your A-team performing the most important and fulfilling work. But, most importantly, you'll be able to focus on your company's growth.
Want to Learn More About Mortgage KPO and BPO?
If you're interested in learning more about how your businesses can improve productivity and save up to 60% with a hybrid approach to outsourcing, contact us today.
The Mortgage KPO and BPO Jobs and Responsibilities that Can Be Outsourced Include:
Origination
| | |
| --- | --- |
| - | Initial Disclosures |
| - | Loan Setup |
| - | Processing Support |
| - | Lock Desk |
| - | Pre-Underwriting |
| - | Underwriting |
| - | Condition Clearing |
| - | Pre-Purchase Reviews |
| - | Closing Document Prep |
| - | Settlement |
| - | Funding |
| - | Investor Delivery & Purchase Advices |
| - | Post-Closing Disclosures |
| - | Imaging & Indexing |
| - | HMDA Reporting |
| - | Trailing Document Management |
| - | MERS Registrations |
| - | TPO |
Quality Control
| | |
| --- | --- |
| - | Pre-Closing QC |
| - | Pre-Funding QC |
| - | Post Closing QC |
| - | Early Payment Default Review |
| - | Leading QC Technology |
| - | Quality Control Services |
| - | Ensure All AUS Requirements Met |
| - | Income Review |
| - | Credit Review |
| - | Title Review |
| - | Appraisal Desk Review |
| - | Asset Review |
| - | DTI |
| - | LOS Entry |
| - | Detailed Reporting |
| - | Reconciliation & Loan Doc Audit |
| - | Executed Docs QC |
| - | Technology |
HMDA Reporting
| | |
| --- | --- |
| - | Analyze Information on Mortgage Loans |
| - | Provide Errors & Corrections Before Submitting to Loan Application Register (LAR) |
| - | Reports Submission for Audit |
| - | Daily/Weekly/Monthly |
| - | Annual Reporting |
Post Closing CD
| | |
| --- | --- |
| - | Review LE's and CD's |
| - | Review of COC's |
| - | Validate Tolerance Violations and Corrections |
| - | Live Process with Committed 90-minute File Turn-around Time |
Trailing Docs
-

Order and Follow Up on Recorded Mortgage Trust Deeds
+ Tax records
+ Assignments
+ Modifications
+ Mechanic lien
+ Assumption agreements
+ Uniform commercial code (UCC) records
+ Judgements

-

Document Retrieval

-

Title Curative

-

Submit Final Copies to Lender and Investor Per Their Timelines
ICE Encompass®️ Support
| | |
| --- | --- |
| - | Overseas Support |
| - | 24 x 7 Support Options Available |
| - | Trouble-shooting and Issue Diagnosis |
| - | Junior Admin Account Functionality |
| - | Assist Client Encompass®️ Admin |
| - | Support Ticket Management and Escalation |
| - | Encompass®️ User Management |
Title + Settlement Functions
Title Services
| | |
| --- | --- |
| - | Full Search |
| - | Current Owner Search |
| - | Legal & Vesting Report |
| - | Liens & Judgment Report |
| - | Abstract Report |
| - | Commitment Report |
| - | Date Down (Updated Search) |
| - | Property Tax Search |
| - | HOA Search |
| - | Municipal Lien Search |
| - | Policy Preparation |
Default Title Services
| | |
| --- | --- |
| - | Foreclosure Information Report – FIR |
| - | Trustee Sales Guarantee – TSG |
| - | Preliminary Judicial Report - PJR |
Settlement Service
| | |
| --- | --- |
| - | Order Entry |
| - | Closing Coordination |
| - | Deed Preparation |
| - | Survey Fulfillment |
| - | HOA Fulfillment |
| - | Obtaining Clear to Close |
| - | Closing Disclosures Preparation |
| - | Schedule Closing |
| - | Scheduling Notary |
| - | Execution of Closing Document |
| - | Recordation |
| - | Final CD Preparation |
| - | Post Closing Reconciliation |
Other Services
| | |
| --- | --- |
| - | Document Indexing |
| - | Document Uploading |
| - | Vendor Management |
| - | Quality Assurance |
| - | Nationwide Searches |
| - | Data Entry |
| - | Email & Chat Support |
Mortgage Servicing Functions
Core Servicing
| | |
| --- | --- |
| - | FCL Referral |
| - | Document Preparation |
| - | Executed Docs - QC |
| - | Timeline Management |
| - | Invoice Management |
| - | 1st Legal, Judgment |
| - | Title Curative |
| - | Foreclosure Sale Bid |
| - | Comp Fines |
| - | Attorney Oversight |
Loss Mitigation
| | |
| --- | --- |
| - | Early Intervention, Collections |
| - | Repayment Plans, Payment Monitoring |
| - | Loan Modification – Doc Prep and Decisioning |
| - | Short Sales |
| - | Deep in Lieu |
Bankruptcy
| | |
| --- | --- |
| - | Bankruptcy Setup and Referral |
| - | POC Preparation and Review |
| - | Review Plan and File Objections |
| - | Monitor CH 13 Payments (Pre- and Post-Petition Payments) |
| - | Reviewing Affidavits and Declarations |
| - | Preparation of Chapter 7, Reaffirmation Agreements |
| - | Review Notice of Default |
| - | Monitoring Bankruptcy Cases for Discharge and Dismissals |
| - | Invoice Management |
Foreclosure
| | |
| --- | --- |
| - | Pre-Foreclosure Checks and FC Referral |
| - | First Legal and Follow up Monitoring |
| - | Reinstatement, Payoff, Judgment and Bid Preparations |
| - | Foreclosure Pre-Sale Reviews |
| - | Foreclosure Timeline Reviews |
| - | Sale Support |
| - | Invoice Management |
| - | Claims Preparation and Filings |
Real Estate Owned (REO)
| | |
| --- | --- |
| - | Property Reservation Setup (Initial) |
| - | Asset Management |
| - | Valuation |
| - | Eviction |
| - | Preservation Work Order Reviews (Initial & Recurring) |
| - | Invoice Reviews & Approval |
| - | HOA Clearance |
Ancillary Services
| | |
| --- | --- |
| - | Data Integrity Audits |
| - | ARM Audits |
| - | Claims Processing |
| - | Loan Setup |
| - | Loan Boarding |
| - | Business Process Mapping |
| - | FLOD Testing |
Accounting Outsourcing Functions– Mortgage Focused
Technology
| | |
| --- | --- |
| - | Trained in all LOS Systems |
| - | Trained in AMB, Loan Vision, QuickBooks and More |
Evaluate
| | |
| --- | --- |
| - | Assessment of Needs |
| - | Determine Implementation Plan |
Daily Accounting
| | |
| --- | --- |
| - | Vendor Setup |
| - | Daily Sales Funding Import |
| - | Daily Bank Recordings and Reconciliations |
| - | Purchase Advice Pull-down |
| - | Accounts Payable |
| - | Cash Balance |
| - | Bookkeeping |
| - | Purchase Import |
| - | Warehouse Line Reconciliation |
| - | Credit Card Entries/Reconciliation |
| - | Appraisals AP Invoices - Daily Status Report |
| - | ACH Check Requests and Expense Reports |
| - | Government MIP Payments |
Weekly
| | |
| --- | --- |
| - | Cash Forecasting |
| - | AP Aging Reports |
| - | Payroll Journal Entry |
| - | Appraisal Fee Review |
Monthly
| | |
| --- | --- |
| - | GL Reconciliation of Loan Level Entries |
| - | CSV Upload Invoices |
| - | Fixed Asset Depreciation |
| - | Balance Sheet/Trend Review |
| - | Recurring Entries |
| - | Month-end Close |
| - | Pay-offs Wires |
| - | Appraisal Refunds |
| - | Mortgage Insurance Payment |
| - | Branch Reports |
| - | Hedging Entries and Pay-offs |
| - | Vendor Reconciliation |
| - | MCC Fees |
Annual
| | |
| --- | --- |
| - | Tax Support |
| - | Tax Preparation |
| - | Year-end Closure Entries |
| - | Vendor Reconciliation |
| - | GL Review and Trend Analysis |
Special Projects
| | |
| --- | --- |
| - | Ad Hoc Reporting |
| - | Vendor Setup and Management |
Training/Support
| | |
| --- | --- |
| - | Training Teams |
| - | Provide Support to Staff as Needed |